Dean's List - Academic Year 2017/2018
To qualify for a place on the Dean's List, a student would have met the following requirements:
Achieve a GPA of 3.70 or better over the two consecutive regular terms during one academic year (excluding Term 3).
No grade lower than a "C".
Completed three or more course units for letter grades in each regular term.
Have no "I" grades and have not been subjected to any disciplinary actions.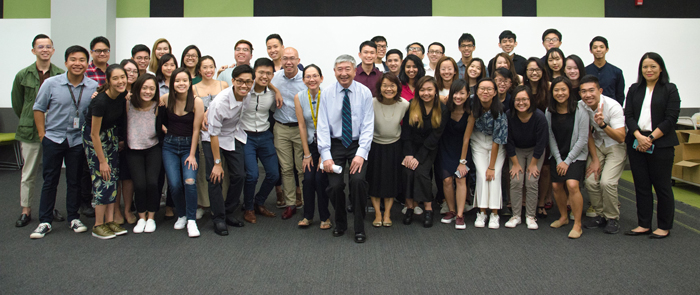 Congratulations!
The following students have been placed on the Dean's List for their outstanding academic achievement in 2016/2017.
Admission Year: 2014/15
ANDREW KOAY SHEN WEI
CHIANG XING LING, LYNN
DAREN NG JHIA JHIN
DEBORAH TAN SHU YI
EU YAN YU, TIFANIS
HON LIANG YI
LISA LIM
LOO JING QIAN, JAMES
NURUL AMIRAH BINTE YUSOF
SEAH TIONG KIAT
STEPHANIE FUH YANG HUI
TAN KAI LIN, LYNN
TAN TZE TUAN, TRACK
WONG KIA CHYI
YANG SHUHUI, CHRISTABEL
Admission Year: 2015/16
BRYAN CHOY KWOK CHENG
JASON TAN HAN WEI
JERMAINE LIM PIN XIU
JOEY TAN JIAO JIE
KWEK JIAN QIANG
LOW QING YING, TIMOTHY
NG SINING, ADELIA
RIA CHATTERJEE
SOPHIA KHO
TAN JUN YAN JUSTIN
Admission Year: 2016/2017
ADELINE BEE WEI TING
AMANDA SEH YUN LING
CHANG ZHI HERNG
CHUA YI YING, MAY
FOO KE QI, HELGA
HAELIM CHOI
LEE HUAN JING
LEE KO WIN, ADON JANUS
LEUNG YU RONG
LI XIAOLONG
LIAO RU HUI, JERRIE
LIU, TIANYU
LOO BIN HUI
NG KAI HUI
NG KOK YIN
PHAN HOANG LONG
PRITHIPAL KAUR BHULLAR
QUEK YI XUAN
RACHEL LEE YONG-FANG
SIA SU YING
TAN GWENDOLYN GLADYS
TAN JUNN WEI
TAN RUI LIE, EUGENE
TAN TERN LOONG THEODORE
TEO YU MIN TAMMY
VANESSA TANUHARDIKA
XU JINGRU
Admission Year: 2017/2018
CALEB TEO
CHERYL CHEW MIN QI
ESTHER CHONG
ETHAN TAN HYM
FONG JIUNKAI, NORMAN
FOO AI LUAN
KEVIN GOH CHEE KEAN
KUEH JINYAN JUSTIN
KWOK KAI-LYN, RACHEL
LIM ZI QI IGXUS
LUCAS ETHAN TIONG JUN WEI
MUHAMMAD ZHAFRI BIN AZMAN
NG YING NING, THEODORA
ONG XIAO LIN
PHUA HUI NING, D'ALENE
RUSSELL TAY RUI XIANG
SAMUEL LIM XIAN HUI
SHAWN ANG DE XIAN
TAN LI YUAN CELINE
TAY HONG YI
TEO JIA JUN
TEO SZE-ANNE
Last updated on 13 Mar 2019 .