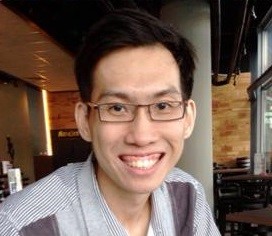 Kenneth Tan joined the SMU School of Social Sciences as a Lecturer of Psychology in February 2017. We managed to get a chance to ask Kenneth a few questions about his research background and teaching interests. Read on to learn more about one of our newest faculty members!
1. Could you tell us more about your academic background? Which institutions did you obtain your undergraduate and postgraduate degrees from?
I was always interested in trying to "read minds", determining personality, and understanding how people thought, felt and behave. This became even more evident during National Service, as I wondered how individuals developed and coped during the NS process, how some sections/leaders were better than others, and how people navigated their relationships with their superiors and peers alike.
Naturally, I went on to major in psychology at the National University of Singapore (NUS). Originally, I had thought of becoming someone that would apply psychological theories and principles in the workplace, in either industrial-organizational psychology or organizational behavior and human resources. However, I did a study abroad at the University of California, Los Angeles, and took a course in the science of relationships. Taking this course opened my eyes to how relationships could be approached empirically, and was an eclectic blend of science and art.
I switched my focus and became really interested in Social Psychology. I went on to pursue my Master in Social Sciences at NUS because I was not sure if I was ready for academia. Being exposed to doing research was an eye-opening experience, and very much different from internships and jobs I did before. Thus, I decided to head to America, where I got a Ph.D. in Psychology at Purdue University.
2. What made you choose to join SOSS as a faculty member?
I wanted to come home to Singapore to pursue an academic career. Given my interest in understanding relationship processes, I felt that my work could be particularly relevant and crucial in Singapore, because of the governmental emphasis on strong familial institutions and maintaining marriages in the modern society. This in turn would also be very consequential to subjective well-being. More importantly, I was attracted to the great research done by the faculty here at SMU. I believe my research interests fit best with the research that are being done by other faculty here at SMU and that hopefully, this will transpire into fruitful collaborations in time to come.
In terms of students and teaching, my interactions with both undergraduate and graduate students of SMU have been great. I have seen how SMU students are inquisitive, driven and well-rounded, as well as capable of doing good research. This gave me confidence that SMU SOSS would be the place for me.
3. What courses are you planning to teach? What can our students expect in your classes?
I am planning to teach Social Psychology, as well a new course called The Psychology of Close Relationships. I believe it is crucial that students are exposed to psychological theories that speak to interpersonal relationships in order to help them navigate interpersonal phenomena successfully. Furthermore, they can apply these principles not only in terms of romantic relationships, but parent-child and work relationships as well.
I believe that learning should be fun. Students give their time to us when they attend classes, and I firmly believe that such time should not be wasted. Expect lively discussions, demonstrations, and videos mixed within lectures that will hopefully solidify abstract theories and concepts. Essentially, I also hope that learning takes place in a climate where the classroom becomes a secure space in which students feel uninhibited by fears of what can or cannot be said. It also becomes a safe haven whereby students can have the confidence to apply and critically reflect on what they know, but more importantly, engage in what they are ignorant about and to question their original assumptions.
4. What are your current research interests? How did you end up getting interested in them?
As mentioned earlier, I am a relationship scientist. In particular, I have focused on understanding relationship commitment, which has been shown to be critical in understanding why and how romantic couples maintain stable and satisfying long-term relationships.
Thus, my primary research goals are in understanding key determinants of commitment, how commitment influences relationship maintenance processes, and how social relationships impact subjective well-being. I am also very interested in the relationship dissolution (i.e. break up/rejection) process, and the ways in which people engage in breakup and how they cope with it.
To me, it is fascinating to understand how we navigate our relationships. All of us have our own rules and lay theories in trying to decide what to do in our relationships, and this determines who we partner with, whether we want to stay in the relationship for the long-term, how we maintain/breakup with the partner, and how we cope when the relationship ends. Relationship science sheds light on these mysteries and myths, and uncovers which of these rules are applicable (or not), in everyday life.
5. Are there any particular research areas/topics that you intend to focus on in the next few years?
Most of relationship research has been done on samples that are western, rich and educated. However anecdotally, there are many differences between how westerners approach and think about relationships compared to easterners. These cultural differences are an untapped and potentially burgeoning ground for research in relationships, and one that I will immerse myself in the next few years.
I am also becoming interested in how singles cope with not being in relationships. Single people have been found to be able to remain happy and extract meaning from other sources even if they are not in romantic relationships. Unfortunately, there exists certain stigmas towards single people, and such discrimination might have deleterious effects on them. Hopefully, I will be able to understand such phenomena better.
6. Could you share with us one interesting fact about yourself?
I did a tandem skydive in the Marina bay area once, before Marina Bay Sands was constructed. It's pretty surreal thinking that we used to have a beautiful drop-zone back then in Singapore, and how much developments that have taken place since then.
Last updated on 07 Aug 2017 .