Jolene Low
BSocSc Class of 2018
Hola! I went for exchange at IE University (Segovia campus) during the fall semester; when I share this piece of news with my friends, the most common response I received was that they haven't heard of this city! In my opinion, though this place is small and far from being the bustling city which Singapore is, it is nice and quaint - somewhere I grew to like.
Segovia
One of the most interesting things about living in Segovia was living in a UNESCO heritage site itself. Segovia is about an hour away from the Spanish capital of Madrid. It is most famous for its magnificent aqueduct which used to transport water in the past, which was really cool as the structure was not reinforced by any concrete when it was built at that time. It's probably Segovia's most photographed place, whenever I walk past it, I feel like I'm walking into tourists' photographs because of the number of people taking photographs with it.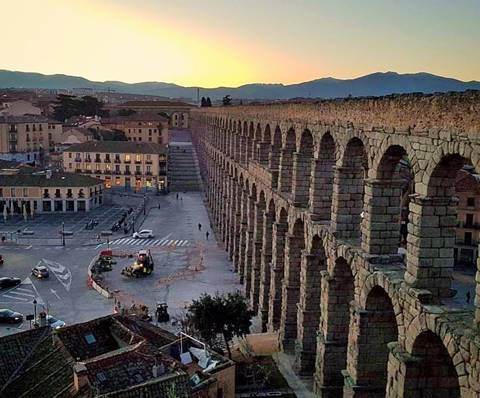 The Roman Aqueduct
The old town of Segovia is also home to a gothic cathedral and an alcazar (castle). Walking through the town feels like being transported back in time to a place with ancient houses. It's really refreshing to be in a place which is starkly different from Singapore.
IE University (Segovia Campus)
I got to attend classes in an old monastery; though it was really modern inside. It was interesting to see how they incorporated the aspects of an old building with newer and modern furnishes to preserve the heritage of the building. Some rooms had murals or exposed brick walls which were a really cool touch to the classroom, and it shows indications of what the building was like before.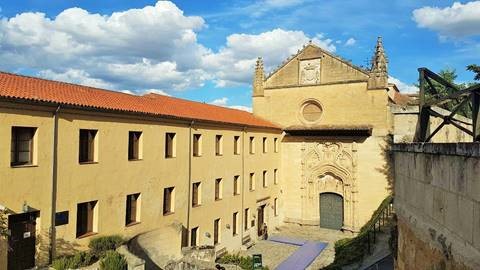 IE University (Segovia Campus)
So why did I choose to go to Segovia for my exchange? I chose this school as they offer courses related to my two majors - Psychology and Marketing, which in turn provided a higher probability of having modules to map. Being able to live in a UNESCO heritage site was an added bonus of my rather practical choice of university. Most people lived in the city center which was very convenient and cozy.
There, I took classes in International Relations, Communications, and Psychology. An interesting class I took was Spanish American Journalism, which discussed differences in the media landscape in Spanish-speaking countries. It was interesting to learn more about the culture through the media! I also took Aid Development and Social Entrepreneurship, an international relations module, where we got to write interesting papers like Op-eds and policy memos. Due to the diverse nature of the class, we were able to hear from different perspectives, and this is what made the class interesting.
Within the school, the class sizes were about half of SMU. Unlike SMU, where we bid for classes and have different classmates for each classes, at IE, they have a fixed curriculum based on your degree programme (for full-time students), so throughout the four years, apart from elective courses, students will stay with the same class. Exception is given to exchange students, who are allowed to take classes across various degree programmes. It was really heart-warming seeing how people knew each other. Before a test, it was common for them to share notes and helping each other out. Occasionally, they would also have gatherings at someone's house. It was really cool to see such a tight-knit (and welcoming!) community there. There were no student accommodations for exchange students, and people usually rented accommodations in the old city which was near the school. So, instead of meeting in school or at a café, we can easily meet at someone's house to work on projects as we all lived really near each other.
IE University also has great pride in its diversity. My class had 31 students from 19 different nationalities, which is a lot of representativeness from such a small class. It was super cool, especially in my International Relations Module, which the diversity added a lot of perspectives to the class discussions.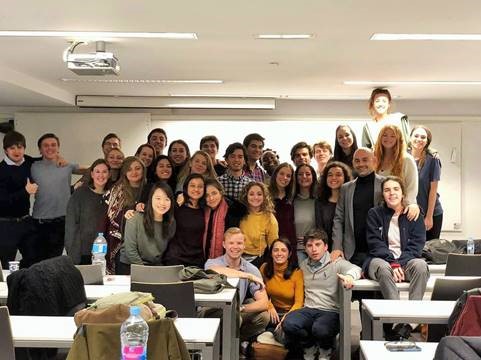 My diverse class for Aid, Development and Social Entrepreneurship
Spanish Culture
As part of our welcoming, the school organized a Tapas night, where we gathered over sangria and tapas. It was like a speed networking event where we got to try tapas and meet other exchange students and buddies. This is organized for students who had just arrived in Segovia (full-time students included), and a session for students to chat and to get to know each other better. As the school is small, it is nice being able to recognize each other.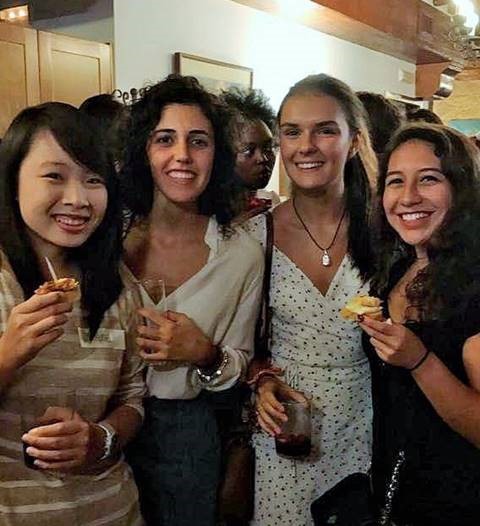 Tapas night with our buddies from IE University
The school also held a 'culture shock' workshop for us, where they spoke to us about Spanish culture. It was a nice touch and we learnt things like the Spanish siesta time. The Spanish schedule is quite different from what we're used to in Singapore. Siesta time, which lasts from about 2pm - 5pm, most shops are closed. When I walked around after school, I would be greeted by empty streets and closed shops. Spaniards also tend to have late dinner, with most places only opening at 8.30pm for dinner.
I also had to adapt to English not being the predominant language in the country. Without knowing Spanish, it was difficult to communicate with people. I learnt this the hard way when I just arrived and could barely understand them; it was really hard to communicate when the other party doesn't speak English. When I was at the bank, I had to use Google Translate and also had to seek help from other people. Thankfully, the people there are really nice and helpful.
For those who are considering IE University, do note that there are two campuses (one in Madrid, one in Segovia) and it is important to look at what majors they offer in each school before applying as you cannot take modules across the two campuses! I recommend taking Spanish classes there as well as there are loads of opportunities to practice it outside of class (and people are usually really nice when you try to speak to them in Spanish, even if you're not good at it!)
Last updated on 12 Apr 2018 .