Nurul Amirah Bte Yusof
BSocSc Class of 2018
Going to the University of British Columbia (UBC) for exchange was by far one of the best experiences of my undergraduate life. It was challenging and overwhelming at times, but also such an incredibly exciting and transformative few months. I miss UBC and Vancouver so much and I wish I could re-live exchange.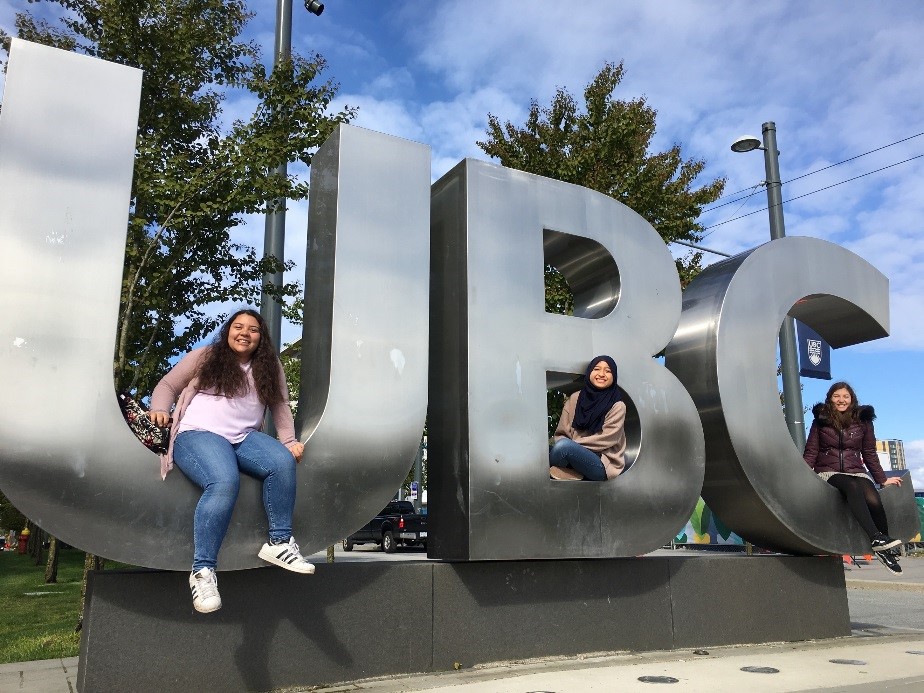 Arriving in Vancouver
Settling-in was so hard for me. I always thought of myself as a fairly independent person and I had applied for exchange in UBC even though none of my friends were doing the same. I guess I just was not prepared for how terrifying being in an unfamiliar place without any of my friends or family could be.
I had signed up for a Studio Apartment on campus, thinking I needed my own space, but this also meant that I had no housemates. There was also no orientation for exchange students during the Winter Term, although I believe they have one for exchange students during the first semester. There were a few events for exchange students to get to know one another but they mostly revolved around drinking and it just wasn't my scene. I effectively knew no one besides the two SMU boys who were also on exchange at UBC. Both Freddy and Evan were so nice to me and helped me with whatever administrative questions I had, but they had also applied for UBC together so I didn't really feel like 'third-wheeling' the two of them too often. Classes started the day after I moved in and I had so little time to adapt.
The weather didn't help as well. Vancouver is on the West Coast, and is considered the warmer side of Canada. However, I also arrived in Vancouver during what every local I spoke to describes as the 'worst winter in years'. The snow was so heavy and the days were so short and everything just felt so gloomy. Basically, I spent my first few days in Vancouver lonely, cold and missing everything about home.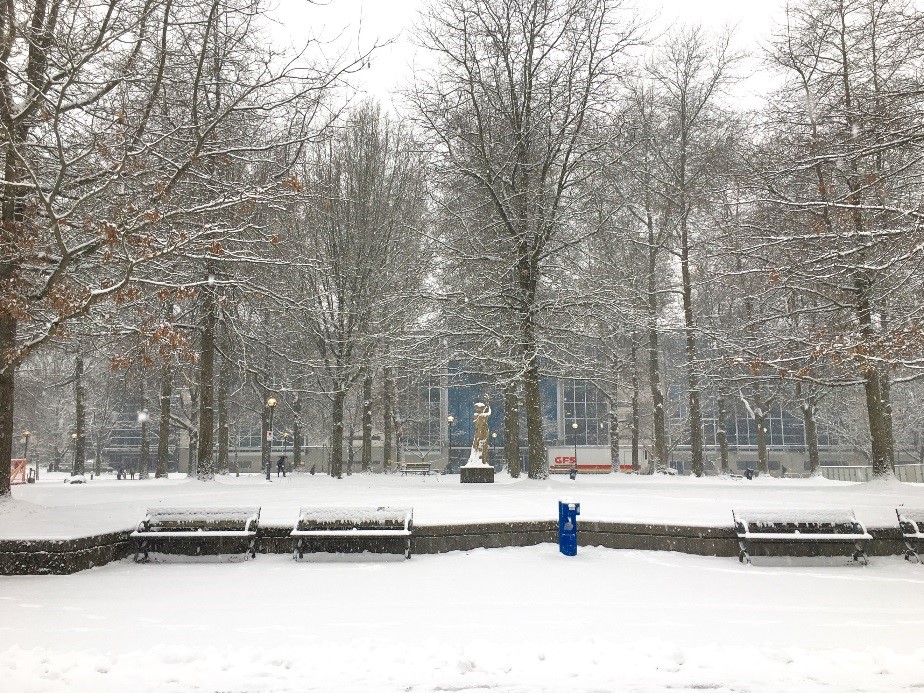 After spending a few days moping, I decided I had to take more initiative to meet new people. There was a Facebook group for exchange students where people would post open invitations for people to join in for certain activities. I put aside my fear of meeting new people and forced myself to turn up for a hike at Stanley Park with a bunch of people I had never met. That was probably one of my best decisions on exchange. I met some of my closest exchange friends on that day, who later introduced me to a lot of other lovely people. Exchange was exponentially better for me from that point.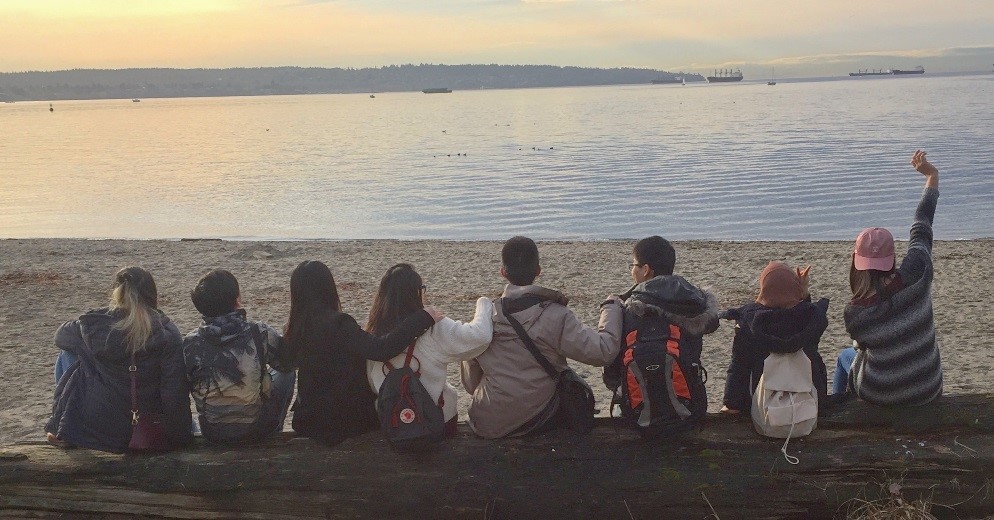 Vancouver's English Bay Beach
Singapore vs Canada
I think one of the most striking differences between Canada and Singapore would be the size. I did not realize how warped my sense of distance was after living in Singapore my whole life. I used to be really dramatic whenever I had to travel more than an hour to get somewhere in Singapore but it takes about an hour just to get to Downtown from campus. Canada is just so huge and things are also a lot more spaced out. You can drive for four hours from Vancouver and still be in the province of British Columbia. My flight to Toronto from Vancouver took about 5 hours, which is crazy to me because you are still in the same country.
Another thing I had to get used to was Vancouver's public transport system. I take the MRT everywhere in Singapore so having to rely mostly on buses to get around Vancouver was a little difficult since the buses there don't come as frequently. The bus stops in Vancouver are also much more distant from one another so you almost always have to walk to get anywhere. There is also no Uber or Grab, which was quite annoying because there are some places that can be difficult to get to without a car, and taxis are ridiculously expensive. It worked out though because car-sharing is a big thing in Vancouver and my friends could drive.
The pace of life is pretty different as well. Singapore is always so busy and you really feel that hustle and bustle of city life. Everything in Vancouver is slower and relaxed for a city. There's only one big shopping mall in Downtown (Vancouver's Orchard Road equivalent) and everything shuts down pretty early (by Singapore's standards).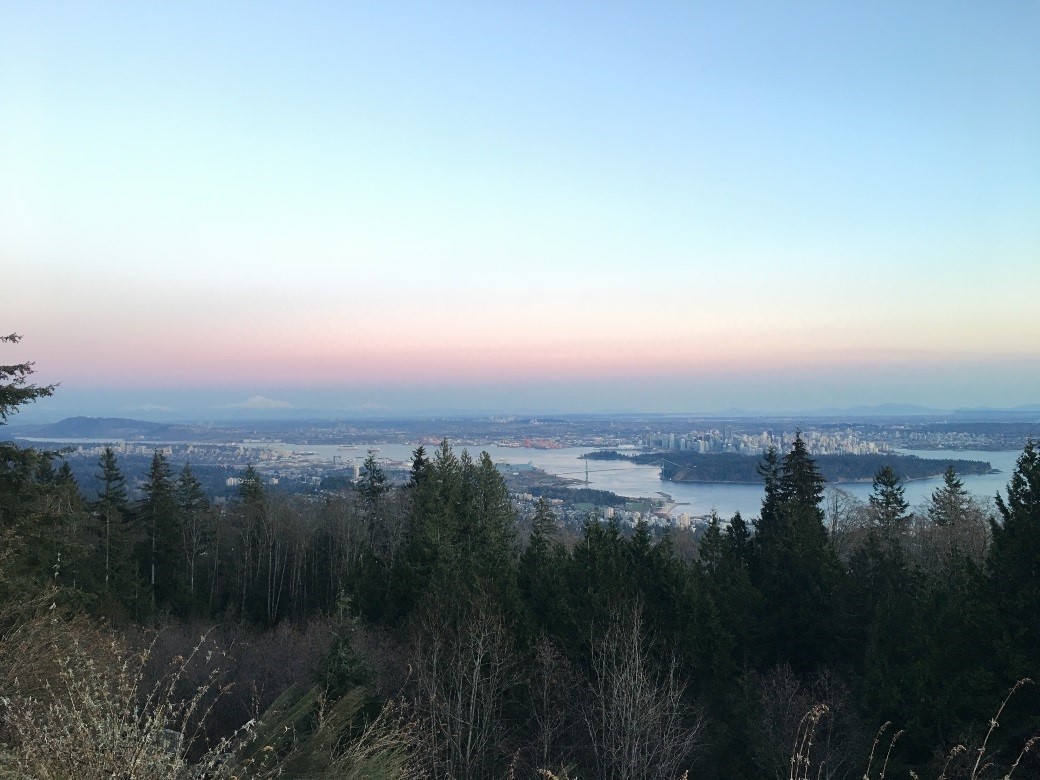 A view of Vancouver from Cypress Bowl Lookout
One major difference between Canada and Singapore would also be the political activism of Canadians. I was in Vancouver during Trump's inauguration and I remember feeling so upset about the hateful vitriol that was becoming increasingly commonplace. It was such an interesting experience for me then to get to be part of the Women's March, a global movement that stood against all the hate and injustice that Trump's accession had legitimized. I went with some girls I had met and we all had such a great experience, being part of this show of solidarity with marginalized communities.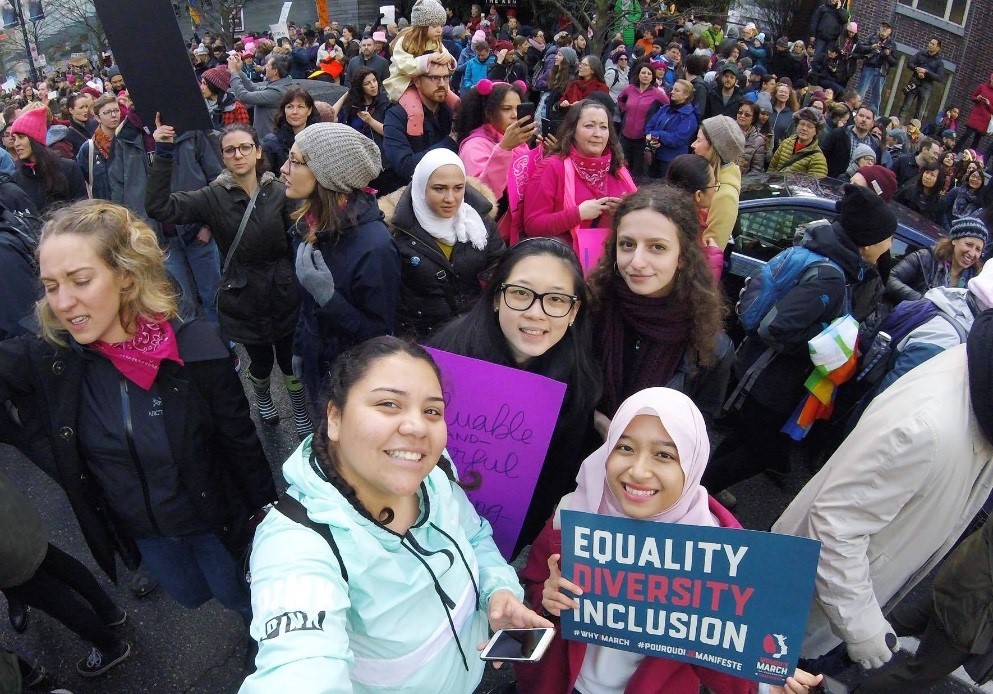 Women's March on Vancouver 2017
My favorite thing about Vancouver would definitely have to be the warmth of the people. People in Vancouver are so incredibly nice. I have had so many lovely and random conversations with strangers and I think I have become a lot more comfortable making small talk with people after exchange.
My Favorite UBC Class
I loved classes so much, which I suppose is quite a strange thing to hear from an exchange student. I chose UBC because it is an excellent university and I really enjoyed the rigor of my classes. By far, my favorite class I took on exchange would have to be a module called National Identity and Citizenship. It was such a great opportunity to learn about things like incorporation and assimilation in such a diverse country that is still grappling with its own identity. Lessons were split into two sessions a week – We had discussion sessions every Tuesday and lectures every Thursday. The instructor encouraged us to relate the concepts we were learning to our own experiences during our small group discussions and I just loved hearing everyone's stories. It also gave me the opportunity to get to know my Canadian classmates and I was really fortunate to learn from so many intelligent and interesting people through this class.
My Canadian Travels
Admittedly, I didn't travel as much during exchange as most people. Vancouver is pretty near to the US border and quite a few of my friends went on a number of trips to various places in the US during the semester. However, my parents had some safety concerns about me going to the US because of the current political climate with all the Islamophobic rhetoric, so whenever I did travel it was just within Canada. That said, Canada has so much to offer and I actually didn't mind not traveling around that much. I quite enjoyed the experience of just living on campus and spending relaxing weekends going around Vancouver.
UBC is great because it has its own bus loop (otherwise known as bus interchange) and a lot of the bus services that operate in Vancouver start and terminate in UBC. This made it pretty easy to get around and me and my friends spent many weekends just exploring different parts of the city. Aside from heading Downtown, we also liked going down to Kitsilano, a neighborhood right next to UBC, which has a lot of cute cafes and restaurants. On top of that, Vancouver has so much natural beauty to offer, with parks and beaches to explore. The city is also surrounded by mountains – with the ski resorts just a short drive away. My favorite place in Vancouver would have to be Granville Island, about a 40 minute bus ride from campus. It's this adorable area that has a public market and hipster shops. Just strolling around the area after a good fish and chips meal is a great way to spend an afternoon in Vancouver.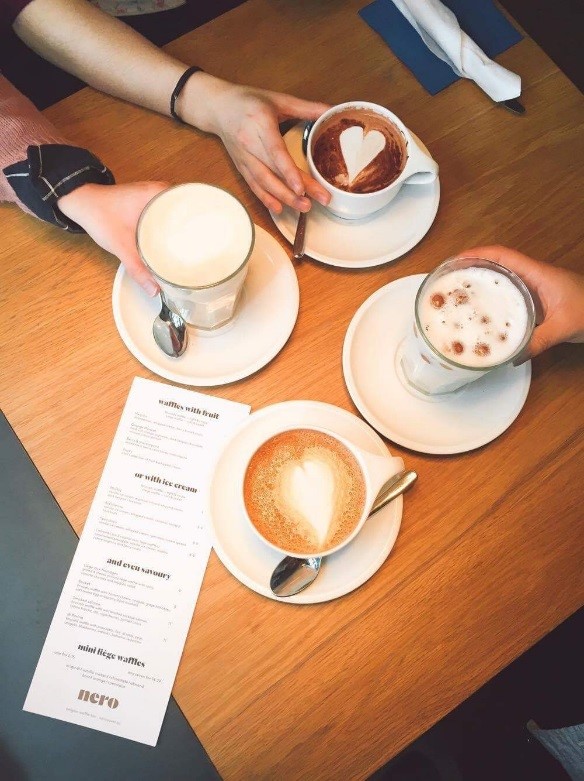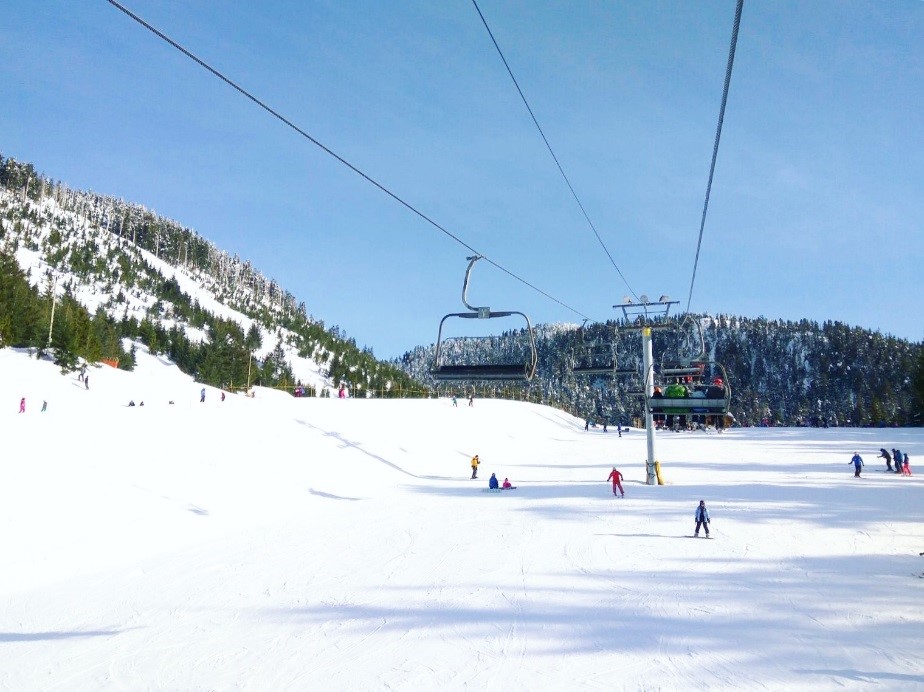 Cypress Mountain
The campus itself has a lot of interesting attractions and lots of people often come to visit UBC. During the peak of the semester, as the assignments were piling up, there were times we were too busy or stressed to leave campus. There was always something to do on campus though. There are two museums on campus (The Museum of Anthropology and The Beaty Biodiversity Museum) and beautiful gardens. The best part of campus to me, however, is definitely Wreck Beach. Watching the sunset there is truly an amazing sight and you don't even have to step out of UBC.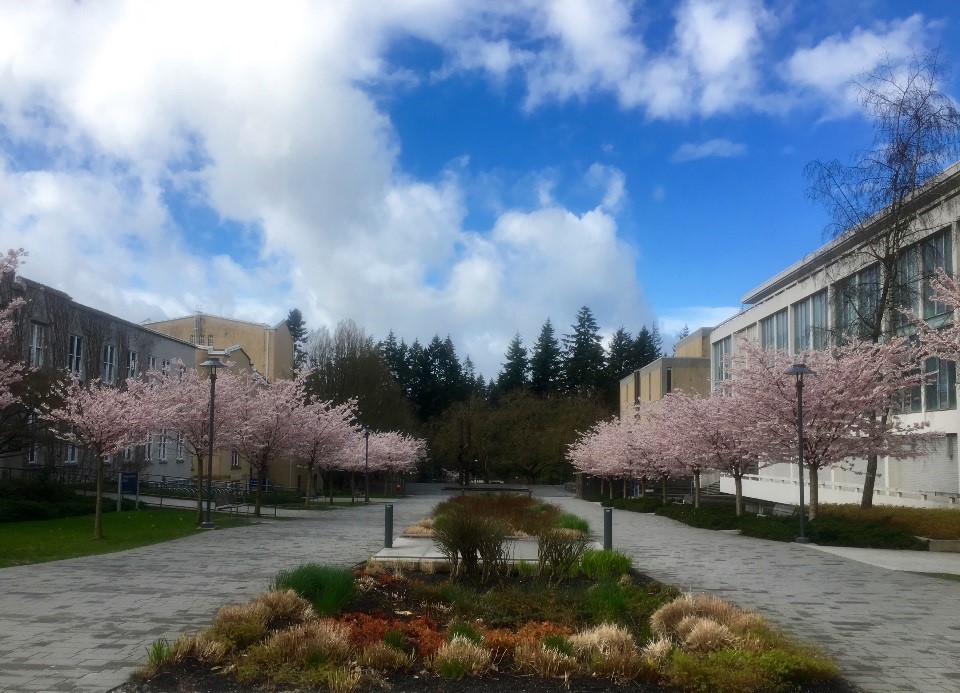 Cherry blossoms in bloom on campus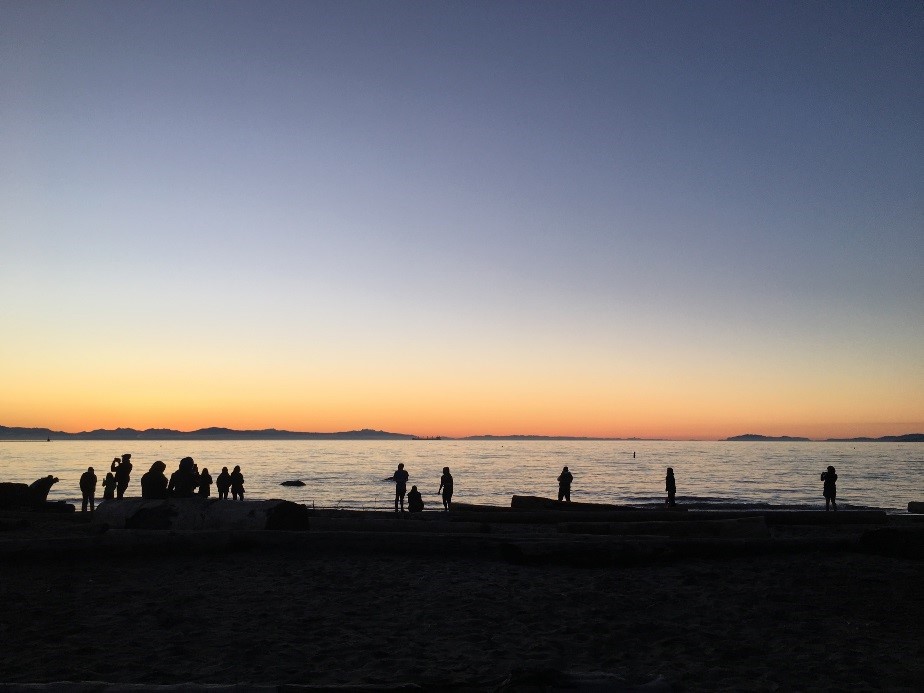 Sunset at Wreck Beach
I did manage to go on a few trips during the semester. We took the ferry down for a weekend in Victoria and had an enjoyable time just sightseeing.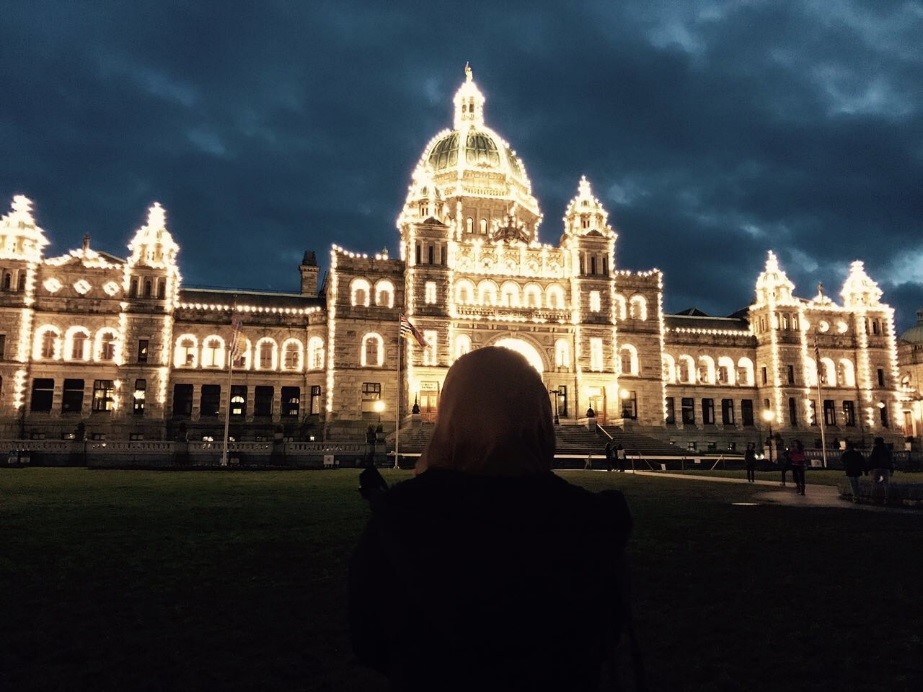 Victoria's Parliament Building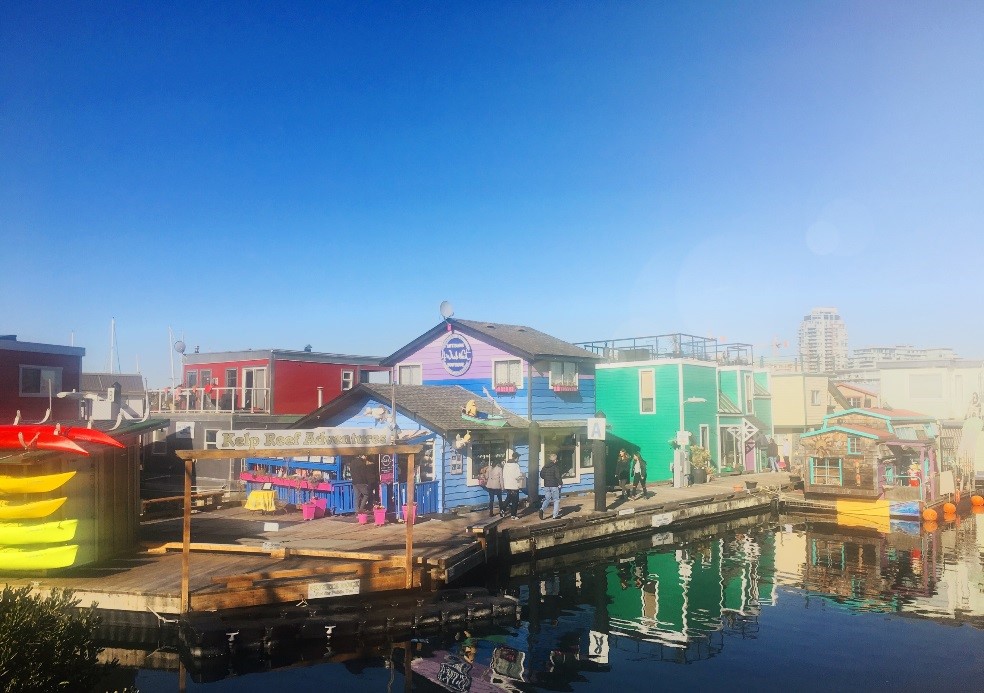 Victoria's Fisherman's Wharf
I also went on a number of road trips which were all really fun. During our reading break, we did a road trip across Vancouver Island, which is just off the West Coast. Vancouver Island sounded like a small island to me but it was more than 40 times the size of Singapore, with lots of different towns for us to explore. We completed a lot of hikes on that trip and saw lots of incredible views.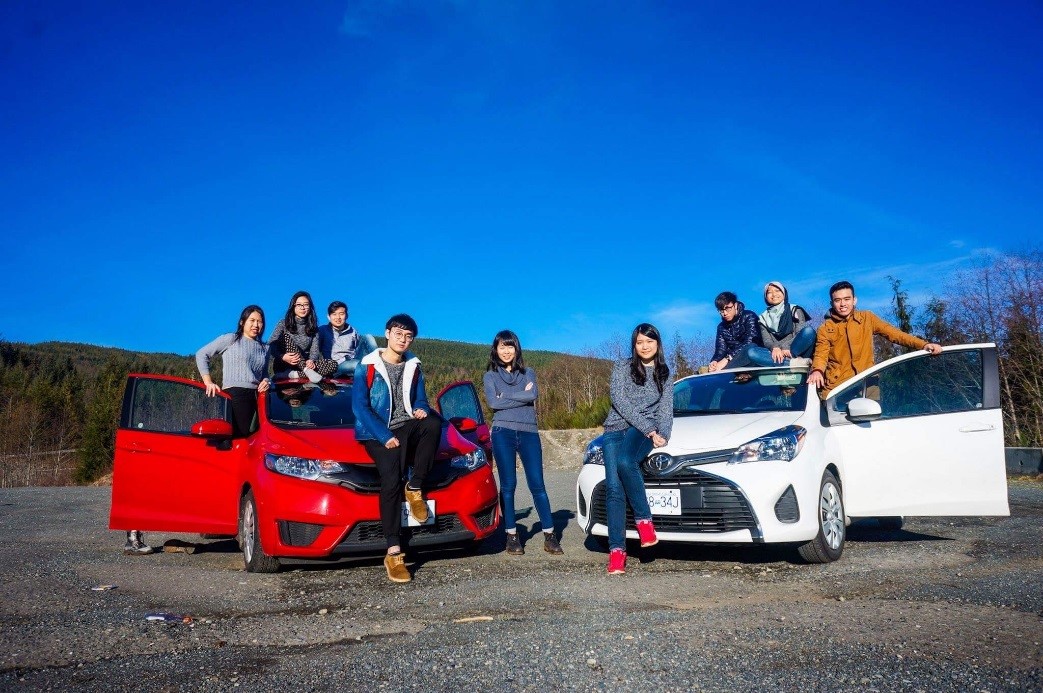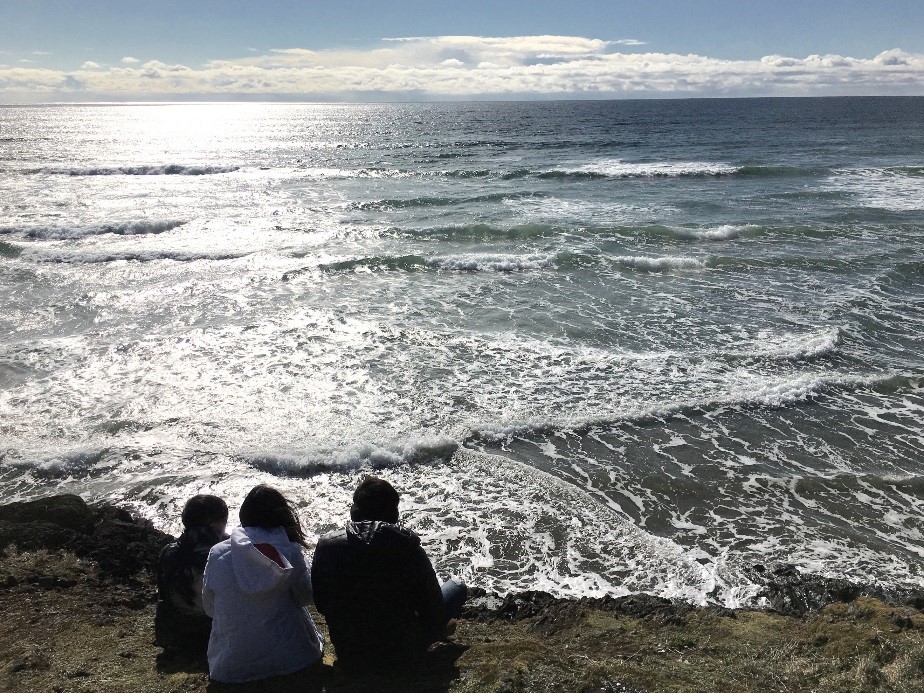 Tofino's Long Beach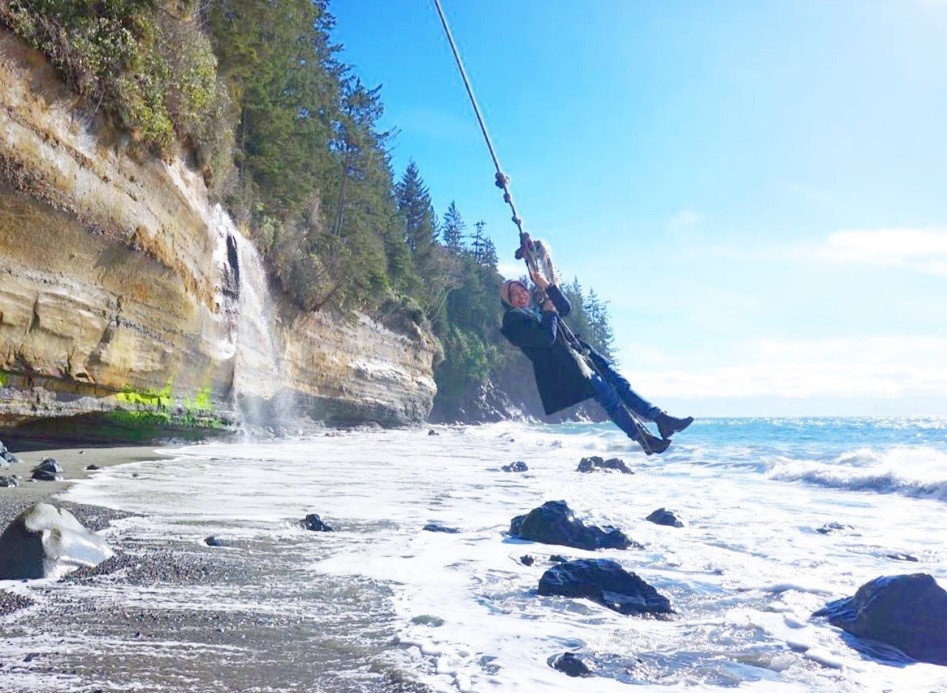 Mystic Beach in the Juan de Fuca Provincial Park
On another trip, we drove about five hours up to Kelowna, passing by a few small towns on the way. The views were once again amazing. My last road trip was to the Canadian Rockies and everything was insanely beautiful – I will never forget those views. I also flew over to Toronto to visit family and I got to see the Niagara Falls which was an amazing sight to behold. At this juncture, I think it is plain to everyone how repetitive this entire section is. Basically, I am just trying to say that Canada is so incredibly beautiful and I love it!

The Canadian Rockies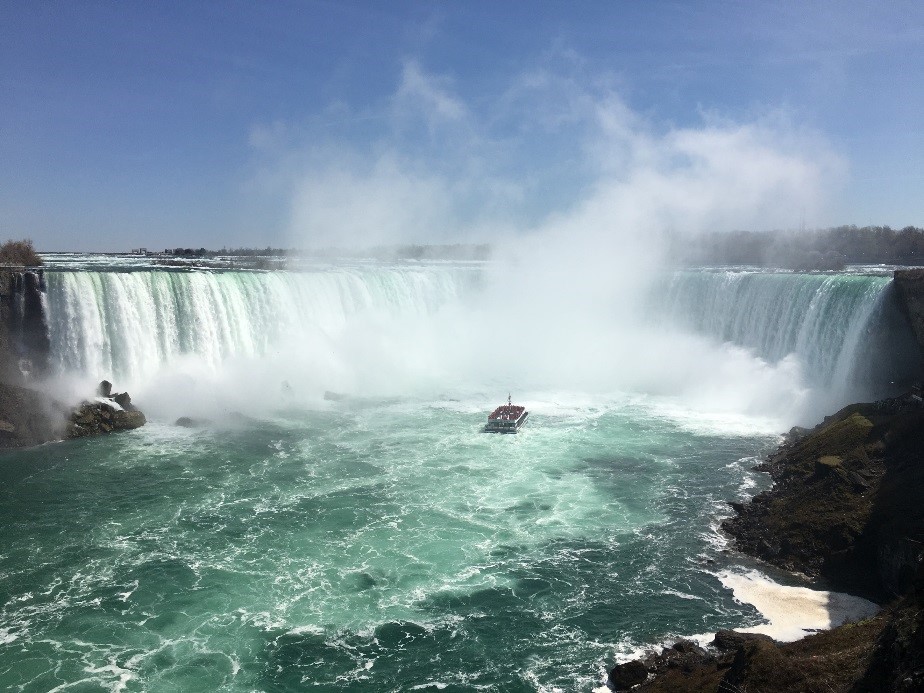 Niagara Falls
Memorable People
I truly only had such a great time on exchange because I met so many amazing people. Going on exchange alone ended up being a blessing. I had to force myself to get out of my shell and it was through that process that I managed to make so many good friends. I'll never forget all my funny and lovely exchange friends from all over the world as well as my favorite Canadian classmates. It was almost unfathomable how much I had in common with people from such different cultural backgrounds. I have to give a special shoot-out to my two favorite girls Romi (who is from Turkey) and Tete (from Mexico) and all our fun nights out eating at cute places and nights in screaming along to High School Musical songs. I miss all my exchange friends so much and I can't wait for them to come visit Singapore and for me to get the chance to go visit them.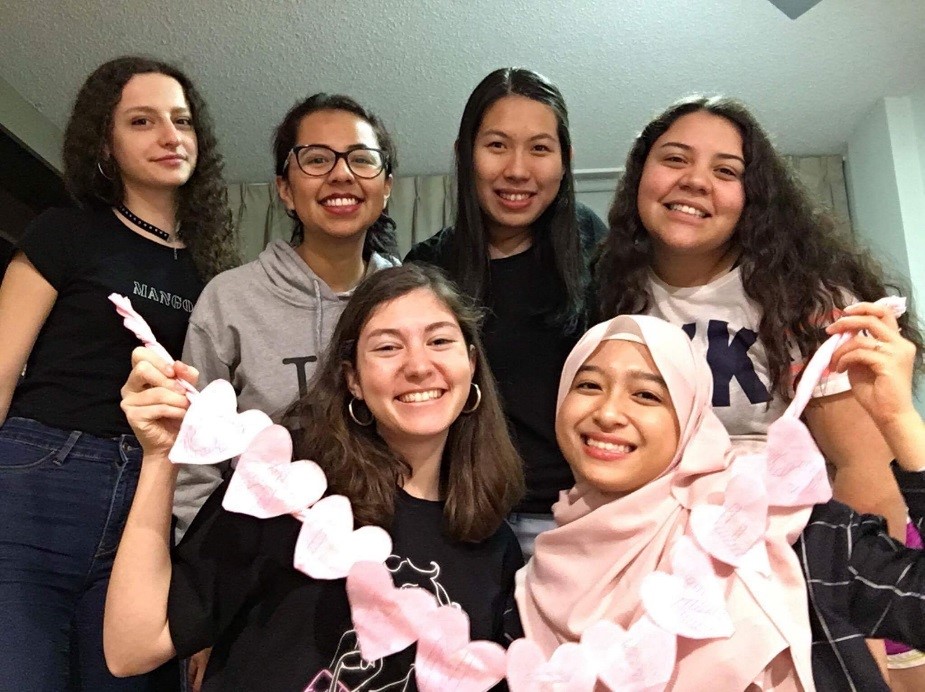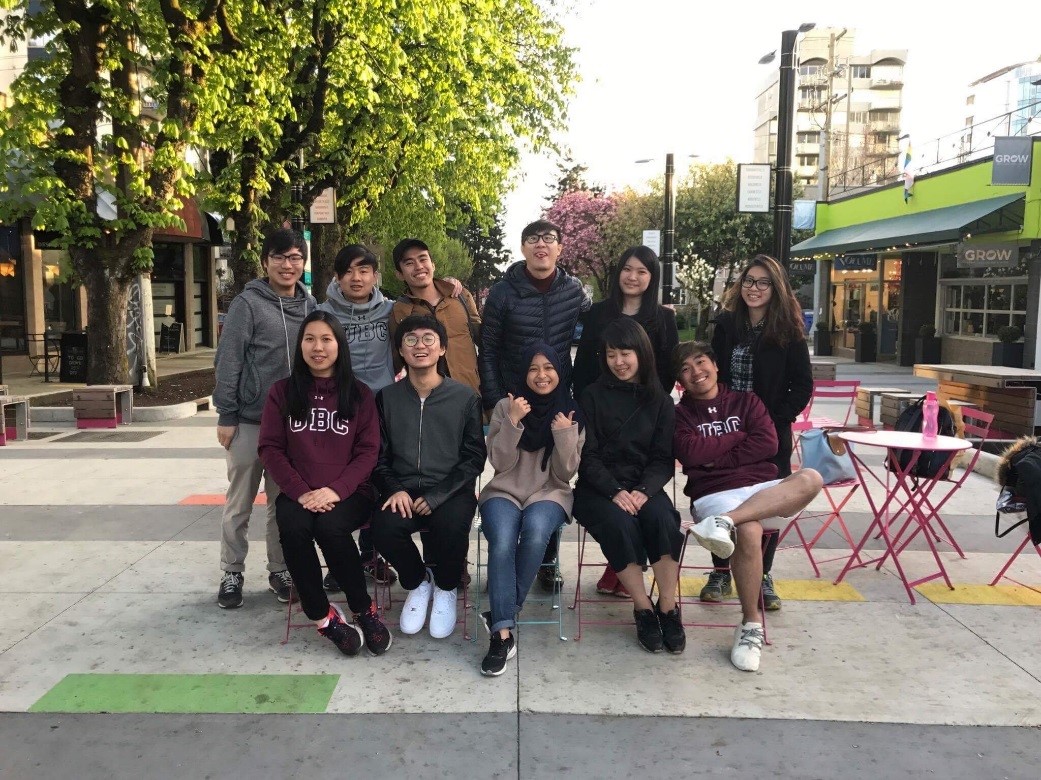 I was also fortunate to have met a number of Malaysian UBC students who "adopted" me and Sufi, the only other Malay-Singaporean on exchange from NUS. There's Chinese food everywhere in Vancouver so I feel like a lot of my Chinese-Singaporean friends didn't miss home food a whole lot but Sufi and I had a rough time the first few weeks without all our favorite Malay dishes. There isn't a huge Malay community in Vancouver and the nearest halal Malay restaurant is in Surrey which was about an hour and half away. The Malaysian UBC students were so welcoming to the both of us and opened their doors to us for their weekly gatherings during the semester. They were much better cooks than us and it was great to get to eat food that reminded us of home. It was just so nice to feel that sense of community with people from a similar culture in such an unfamiliar environment.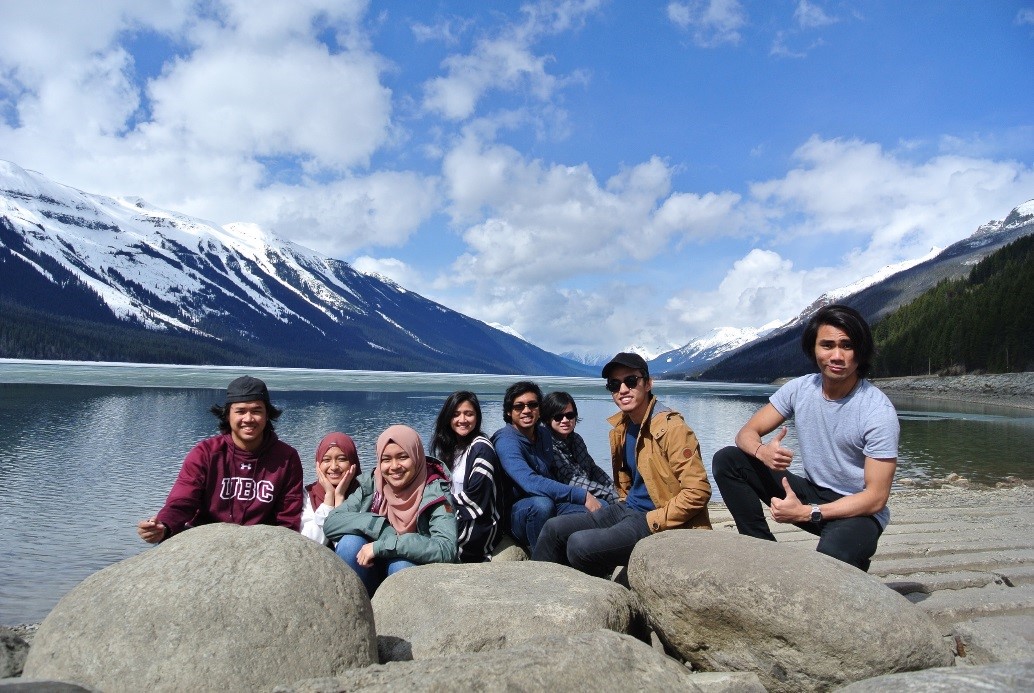 Lessons Learnt
I think I definitely learnt to fend for myself through exchange. Being so far from home made me realize how pampered I am back in Singapore. Exchange really forced me to become more independent and disciplined. I had the liberty to be as lazy as I wanted to be without being nagged at. But at the same time, there was also no one there to make sure there was food for me to eat or that my living environment was habitable. I really had to train myself to get my life in order for my own sake. On a related note, I think I also learnt to become comfortable in my own company. I rarely do things on my own back home but the experience of living alone made me appreciate 'alone time' a bit more.
Something else that struck me while I was on exchange was how growing up as a minority in Singapore made me accustomed to and comfortable with diversity, whereas this may not be the case for many of my friends from elsewhere who come from much more monistic cultures. Many of my friends were surprised that I was from Singapore due to the overwhelming impression held by outsiders that Singapore is a Chinese country, and they were really interested to learn more about our multi-racial society. It is easy to take my close friendships with friends from different ethnic groups for granted. While we are still far from genuinely embracing our differences, I came back from exchange with a newfound appreciation for the diversity in Singapore.
Would I Recommend UBC?
Go for it! I loved my time at UBC so much. Canada is such a beautiful and lovely country and UBC is a great school. Also, make sure you pack waterproof shoes. There's a reason people call the city "Raincouver".
Last updated on 05 Sep 2017 .